20/01/22
Digital Culture Awards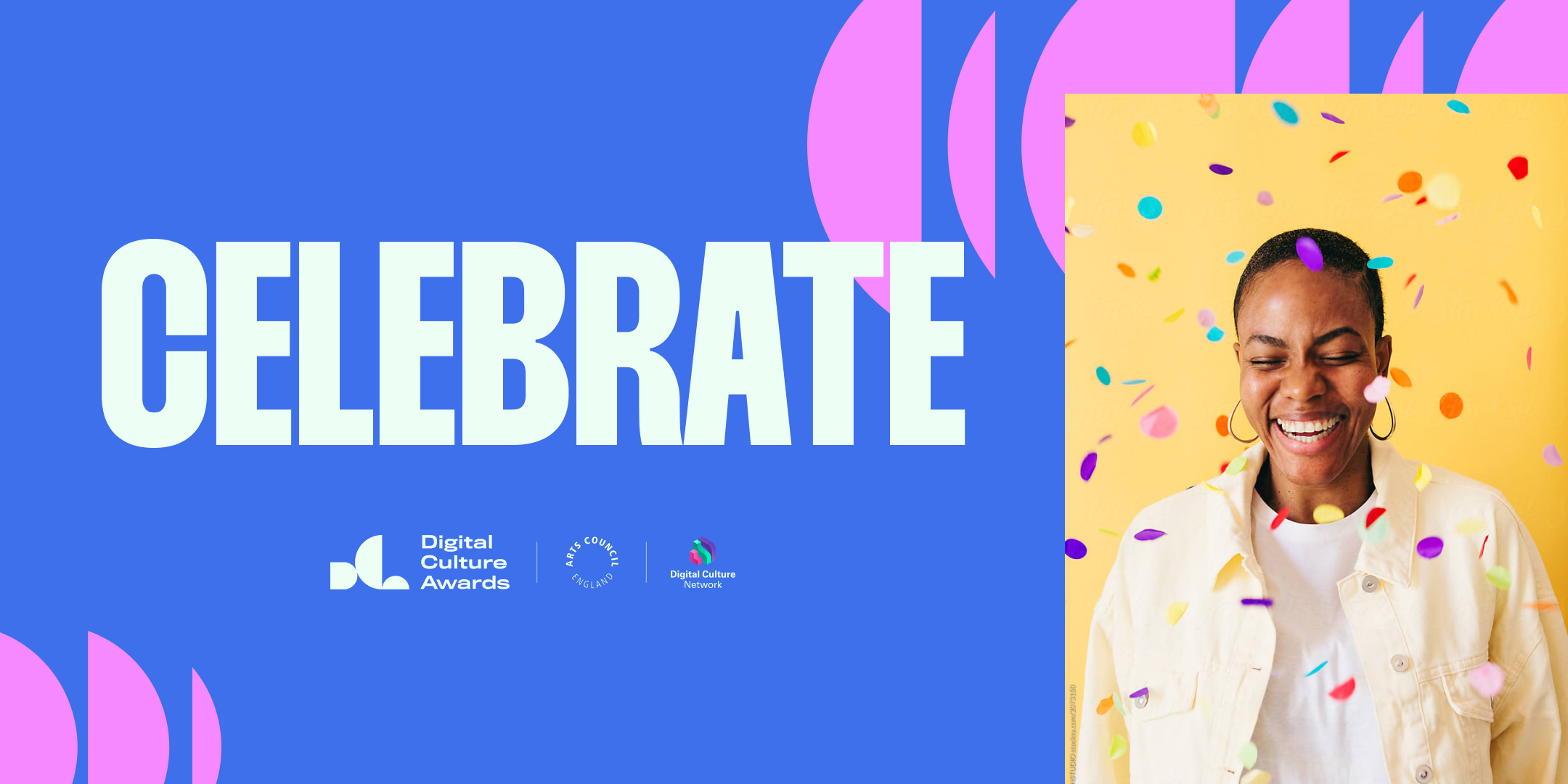 Arts Council England and the Digital Culture Network are excited to present the first Digital Culture Awards – celebrating digital and tech innovation in arts and culture.
We received over 400 entries and our brilliant Judges have narrowed those down to a Shortlist of just 29. We'll be announcing the Winners at this virtual event on 20 January 2022, and we hope you'll join us to celebrate all the inspiring work you and your colleagues and peers have accomplished in the past 2 years.
The event will be hosted by acclaimed Inclusion Leader, broadcaster and producer, Jasmine Dotiwala and will feature appearances from our Judges and other inspiring guests, including Kanya King CBE, founder and CEO of MOBO group and Darren Henley OBE, CEO of Arts Council England. We're also thrilled to be able to show the UK Premiere of Alexander Whitley Dance Company's 'Chaotic Body 2: Liminal Phase'.
When is it?
Thursday 20 January, 4-5.30pm
We'll be opening our virtual doors from 3.30pm to allow you time to get settled in and set up with a celebratory beverage of your choice.
Agenda
3.30pm – Reception opens
4.00pm – Award Ceremony
Opening statements
Award Winners announced
Performance
Short break
Award Winners announced
Closing statements
5.30pm – End
This event will be live captioned. If you have any questions please get in touch at DCNEvents@fuseevents.org.
Who are the speakers?
Our expert Judges talking about their category and announcing the Winners:
Digital Storytelling: Tom Burton – Head of Interactive, BBC Studios
Digital Inclusion: Andrew Miller MBE – Cultural Consultant, Broadcaster and Disability Champion
Data Driven: Rishi Coupland – Head of Research and Insight, BFI
Income Generation: Liam Darbon – Head of Omnichannel Trading, Tate
Content Creation & Distribution: Derek Richards – Head of Broadcast & Digital, The Roundhouse and Sarah Fortescue – Head of Distribution, The Space
Being Social: Adam Koszary – Head of Digital, The Audience Agency
Emerging Digital Leader: Hilary Carty CCMI – Executive Director, Clore Leadership
Digital Trailblazer: Katz Kiely – CEO, Beep
Who is shortlisted for an Award?
Check out the Shortlisted projects on our website. Whilst there you can also review the brilliant projects which were included in the Longlist for each category.
What are the Digital Culture Awards?
Since 2019, the Digital Culture Network has worked with over 1100 organisations and individuals and we never cease to be inspired by the innovation and agility our sector displays. This has never been more apparent than over the past 18 months, where organisations have embraced digital technology to reach and engage audiences in the most innovative and creative ways and at an incredible pace, demonstrating the real opportunities that digital can offer to support our sector as we move forward.
So, to celebrate your dedication and creativity, we asked for submissions which outlined the very best in digital transformation, digital engagement and use of technology in arts and culture in England. We took entries from across 8 categories including digital storytelling, digital inclusion, income generation and emerging digital leader and engaged a host of amazing experts as Judges to shortlist across 2 rounds. The Winners in 6 categories will be chose by our Judges, but our two publicly voted categories – Digital Inclusion and Digital Storytelling – will be decided by you!
Public voting is open until 12pm (midday) on Friday 14 January – vote now!
How can I get involved?
Reserve your free ticket to this event and spread the word!
Any questions about the event or tickets, please email DCNEvents@fuseevents.org
To keep up to date on all things Digital Culture Awards follow the Digital Culture Network on Twitter @ace_dcn or sign-up to our newsletter.
What is the Digital Culture Network?
The Digital Culture Network is part of a funded programme for arts and cultural organisations. We have a team of nine Tech Champions across the country, who can provide free 1-2-1 support in a range of areas including digital strategy development, websites, social media, data analytics, digital content creation, SEO and paid marketing, CRM, box office and ticketing systems and email marketing. This support is available for those currently funded by or usually eligible for Arts Council England funding. Head to our website to book a 1-2-1 diagnostic with a Tech Champion.
Privacy
When you register for an event, please refer to Arts Council England's privacy notice to see how we use your personal data. Please note that in line with this policy, we may share your basic data (name, job title and organisation) with other participants and event partners. We will only share your contact details with partners should you opt-in to do so during the registration process.