Goodtill point-of-sale software
John Talbot at Goodtill talks us through how they work with arts organisations and how those organisations can benefit from using this provider of iPad point-of-sale software.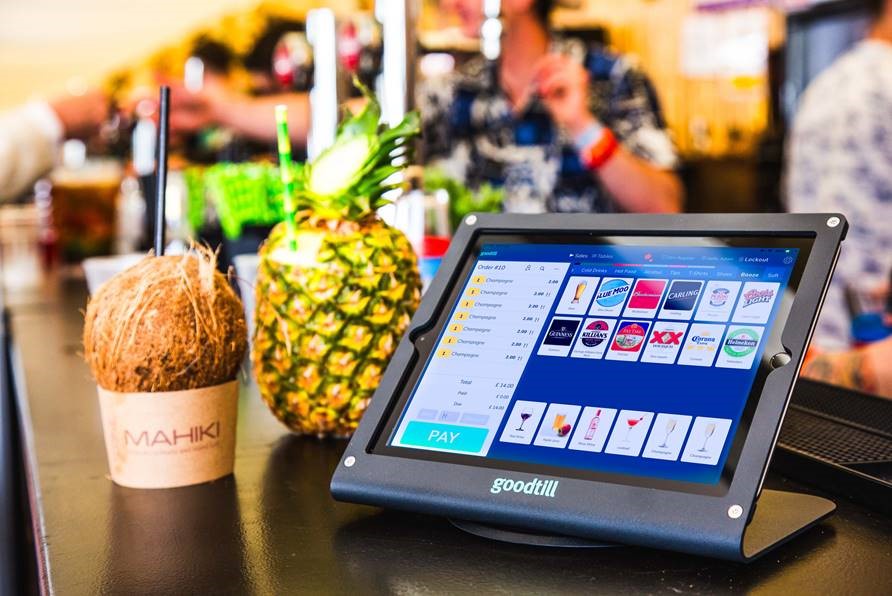 What is Goodtill?
Goodtill by SumUp is the industry-leading provider of iPad point-of-sale software in the UK & Ireland, powering some of the UK's most exciting businesses and the largest names in hospitality with £500m of transactions processed annually. We cater to more than 1,400 customers within the hospitality sector and our POS systems run in some of the most popular theatres, nightclubs, concert venues and sports stadiums the UK has to offer.
We're dedicated to transforming businesses of all sizes with our feature-rich, point-of-sale solution in speed, capability and power. Plus, it's easy to expand Goodtill tech with additional hardware and software modules as your business grows and develops.
What are the benefits of becoming a Goodtill ePOS client?
We simplify point-of-sale.
Goodtill lives on an iPad, which means most customers are already more than familiar with the interface our systems offer. It's intuitive, sleek and easy to navigate, and your staff won't need an entire day of induction to get started. Our browser-based back office ensures you won't be juggling a variety of programs either. That means you can spend more time running a successful arts venue, keeping your performers and audiences happy.
We offer flexibility to entertainment and arts venues
We cater to all hospitality businesses, by offering industry-specific solutions, so however complex your food and beverage business is, we have the necessary tools within the Goodtill system to manage your service and back-office requirements. Our hardware and interface looks modern and contemporary, while representing total flexibility, delivering optimal efficiency for your business.
How do Goodtill work with arts & events organisations?
I joined Goodtill to head up music and live venue partnerships. I'm always available to talk to arts and events organisations of any and all sizes. We have immediate solutions available, but it's always good to discuss what specific needs your venue has in regards to point-of-sale and customer payments. I can also explain how we integrate with your eCommerce, accounting, stock and staff management systems ensuring you never miss a sale and your operations run smoothly with no interruptions. I'm on hand to demo the system and answer your questions, so hopefully you can understand why 91% of our customers rate us an excellent POS provider.
At the start of 2021 we used our experience in working with a variety of F&B clients to launch technology packages specifically for the live events sector; creating viable point-of-sale solutions for operators keen to invest fully in new tech, or to revolutionise their business on a pay-monthly basis.
New venue clients can be confident that they will receive the best customer service from Goodtill, with our UK-based support team readily available to make the transition from your old system as easy as possible and get you live quickly with our unrivalled installation turnaround.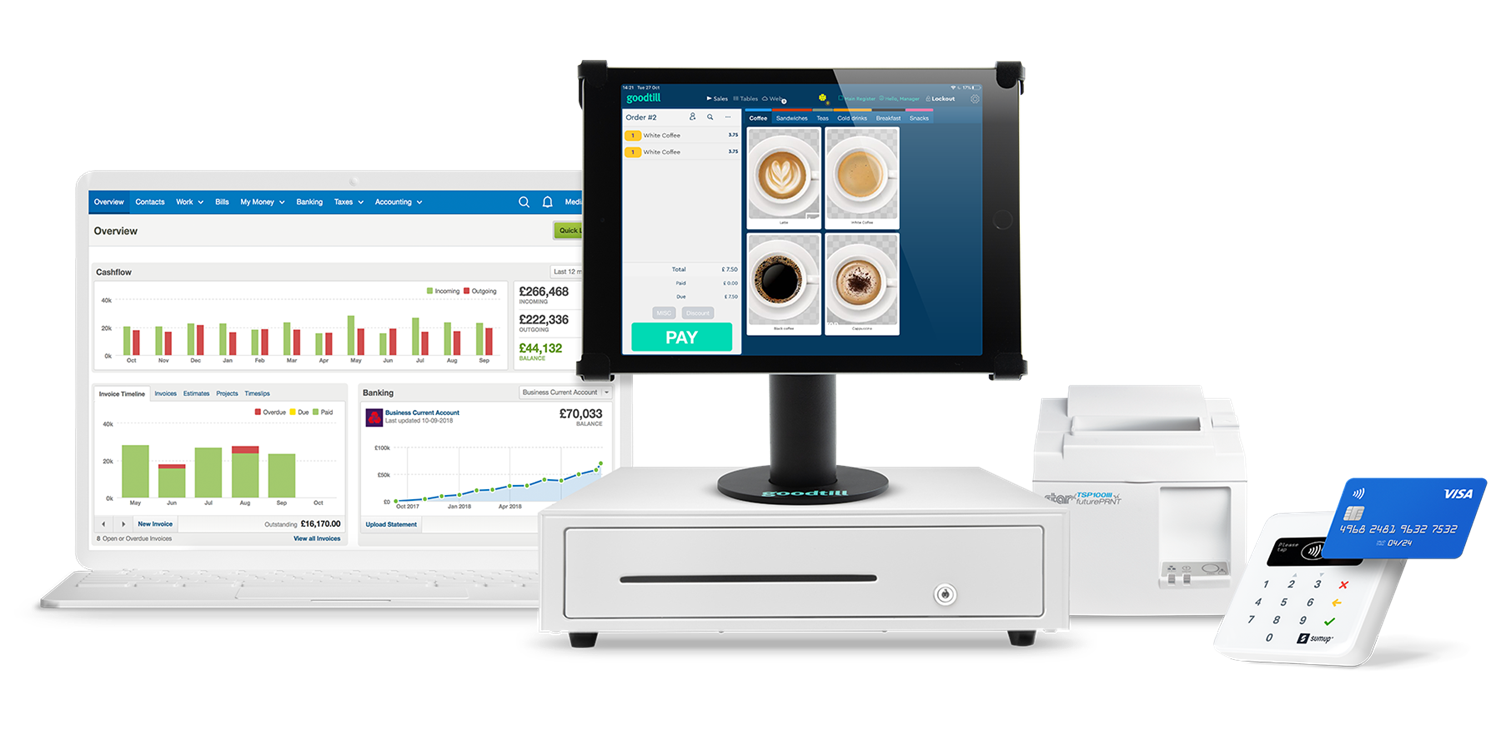 How much does it cost?
Goodtill represents an extraordinarily dynamic and sophisticated ePOS system, but very importantly we wanted to offer a POS option that is affordable, regardless of the size of your operation. Because our functionality is modular, you only need invest in the management systems your business requires. A venue can benefit from our powerful, easy-to-use iPad operated POS starting from only £29 a month. We can tailor a package on top of our core POS SaaS giving you access to a range of add-ons, you can easily upgrade or opt out of at any time.
Do you integrate with eCommerce platforms?
Absolutely. We pride ourselves on ensuring you have access to all your tools in a convenient, one-platform solution. This includes custom, third party and end-to-end integrations that help you manage your accountancy, delivery, staff, payment and more. As for eCommerce platforms, we've got you covered with Shopify and WooCommerce – and our list of integrations is ever-expanding!
These integrations will help you in centralising your processes through our easy-to-navigate back-office so you don't waste time navigating a multitude of different programs to manage and keep tabs on your business. This includes automated inventory count; data that is synced to your reporting at first scan and forgoing any unnecessary rekeying of data. We've replaced the whole ordeal with the click of a mouse.
Which financial reporting systems do you integrate with?
Swift, accurate and reliable accounting is key to running your venue successfully. That's why our core Point-of-Sale offers an intuitive real-time dashboard and detailed reporting that lets you take a global view of sales or drill into an individual vendor's performance. Our reporting integrates seamlessly with Quickbooks and Xero, or you can simply export reports for upload into other 3rd party accountancy software.
When it comes to taking customer payments in your venue, we offer a range of seamless payment integrations to bring you lightning-fast payment processing as well as a smoother checkout process. We also integrate with most major payment providers, but we also boast our very own SumUpintegration, which empowers you with global card acceptance, in-store, online and through mobile applications. SumUp provides you with a secure and compliant platform to process all your transactions.
How can Goodtill help arts and cultural organisations?
Reopening safely and seamlessly
As well as ensuring your organisation has attractive point-of-sale and cloud-based control for offsite management, Goodtill comes with Goodeats, our mobile ordering and drop off service, which has proved essential for many of our partners to reopen safely during the Coronavirus pandemic. Goodeats has helped venues serve customers with greatly reduced contact, queuing and cash handling.
The service is fully integrated with the POS system and works in three easy steps:
Mobile Ordering with Goodeats – customers simply access our browser-based click & collect platform to choose their order from the menu and pay online via Stripe payment. There is no need to download an app and their location can be assigned by QR code.
Order Processing – bar staff receive the order on Goodtill, assign an order number and begin preparing food and drinks while the customer is notified by email/SMS.
Contactless Collection or Drop-off- once the order is ready, the customer is notified and is given a designated collection point where they can find their concessions, or it can be carried to a table, room or area.
Understand your customer by moving from cash to card payments
Moving from cash to a card payment system that works both face to face and via mobile ordering platform like Goodeats means you can develop customer understanding and insights simply unachievable with cash-based systems. Do customers drink differently depending on what event is on? A rock band might generate more beer or draught sales, compared to a classical concert, for example. Previously, venues and promoters have had to presume the consumer habits of their audience, now ePOS offers certainty. Venues can modify their offers depending on what will sell the best. Managers can create targeted and informed marketing campaigns based on the available insight, all of which can make a huge difference to the revenue and profitability of an arts venue. Plus we've seen that customers who spend on card, spend 40% more on average than customers who spend cash! Once you understand your customers, you can communicate with them and reward them with discounts and exclusive products and experiences – using our built in loyalty rewards management module.
It's an exciting time to be reopening and Goodtill are ready to be a valuable partner in the running of your venue and events. Visit the Goodtill website for more details or contact john.talbot@sumup.com for a demo and discussion regarding your organisation today.
Case Studies
Large venues with multiple food & beverage as well as retail vendors, should check out our partnership with Shelter Hall in Brighton:
Mobile Table Service with Shelter Hall
Festivals and events operating through multiple traders, vendors and even venues might be interested in how Goodtill kept comedy and culture fans well-watered at the Edinburgh Festival:
Goodtill at the Edinburgh Fringe & C Venues Bars
Café and arts space Acanteen in Essex embraced Goodtill and Goodeats services to stay open and operate safely throughout 2020, here's how it worked for them:
Goodeats & Goodies Loyalty with Acanteen
Goodtill for multi-site traders such as museums with bars, shops, cafes and restaurants all trading at the same time – with different menus and different delivery and operating locations. Goodtill has some excellent case studies in this space.
The natural choice for Coffee Shops
Goodtill offers technology and reporting that meets stadium sized requirements
Click here to watch John Talbot's webinar discussing how Goodtill's POS technology is helping hospitality and entertainment venues reopen and operate safely.
What next?
The Digital Culture Network is here to support you and your organisation. Our Tech Champions can provide free 1-2-1 support to all arts and cultural organisations who are in receipt of, or eligible for, Arts Council England funding. If you need help or would like to chat with us about any of the advice we have covered above, please get in touch. Sign up to our newsletter below and follow us on Twitter @ace_dcn for the latest updates.
---