Teemill print on demand store
Join Emma Roberts as she talks to Teemill's Head of Business Development, Tobias Penner. Interview from October 2020.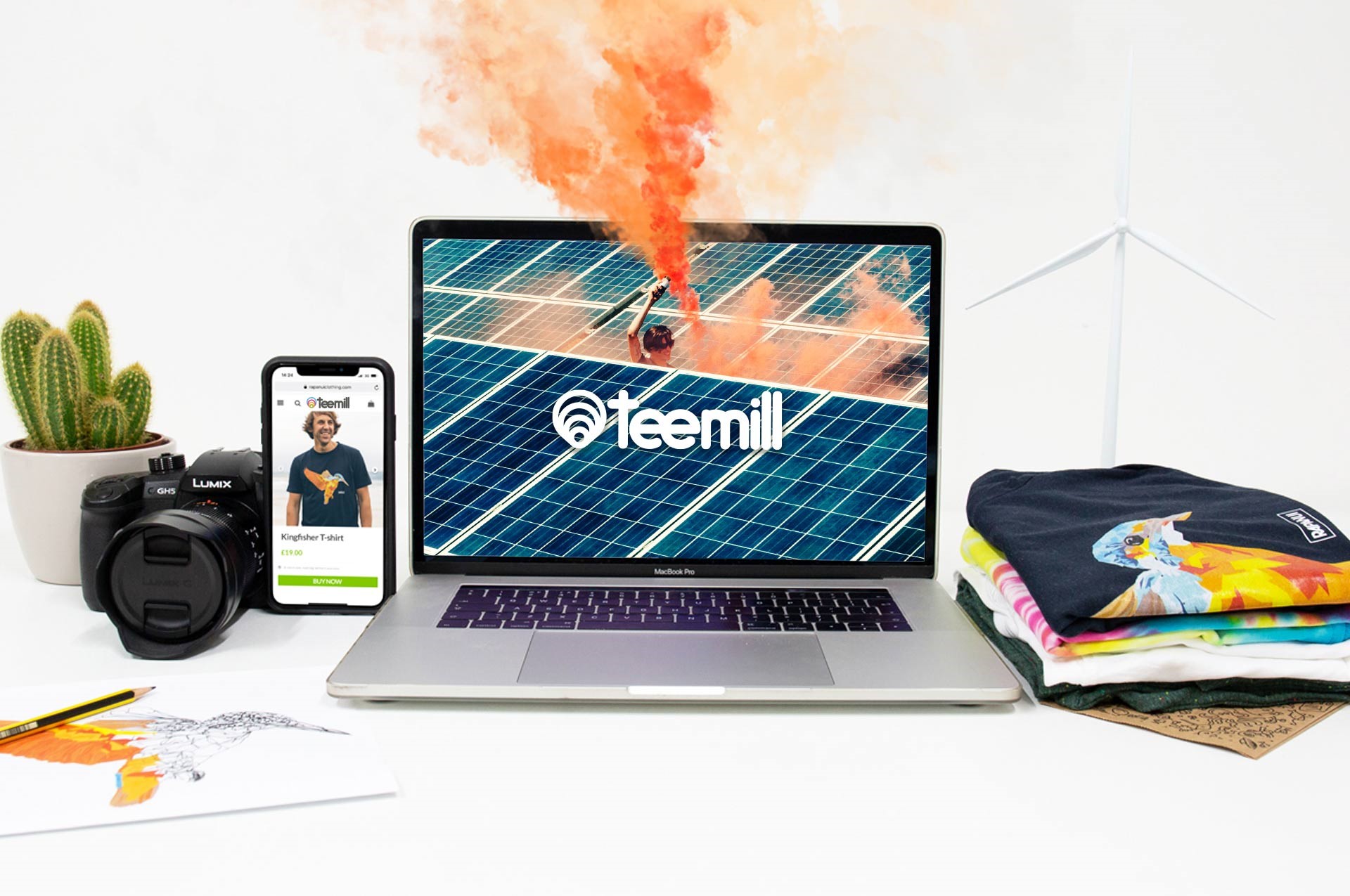 What does Teemill do?
Tobias Penner from Teemill explains how the platform could be relevant arts and cultural organisations:
Teemill lets people build an online store and sell their designs. It's easy and it's connected to our supply chain in the UK. When you get an order we print and ship it automatically the same day. There are two things that are really helpful about this, the first is sustainability. Every product we make is made from natural materials using renewable energy and designed to be sent back and recycled when worn out. Secondly – it's free. The purpose of our business is to make a more sustainable supply chain then scale it by sharing access to it. Today, that means working with lots of organisations that share our values, like charities, start-ups and not for profits. For us it's great to see our technology being used to help people get online and build cool websites with interesting blogs using Teemill, and also to start up a new income stream selling merchandise to support their work. Perhaps the most exciting way Teemill has been used is to back campaigns like the Choose Love campaign for Help Refugees, or Joe Wicks' campaign for NHS charities together. Slogans can change the world, and we'd love to see creative people contribute positive ones for good causes.
Our team are experts in digital merchandise campaigns that reach millions of conscientious consumers through our database and wider marketing activities. Through leveraging our experience, and with over a million active customers on file, we can help reach new audiences and create awareness for people that want to do something creative online with t-shirts.
Example Stores/Charity/Campaigns
https://wearitforwarchild.com/
https://choose-love.teemill.com/
https://wwf.teemill.com/
https://pewithjoe.teemill.com/
https://kindred.teemill.com/
How sustainable is Teemill?
We make products using natural materials, powered by renewable energy, and they are designed from the start to come back to us when they are worn out. We then make new products from the material we recover. Teemill is the first open access circular economy in the world. The efficiencies in our systems and our UK factories mean we can reinvest in making better products from better materials that support better jobs.
Teemill was recognised for our work on ethical business recently, winning the 2019 Queens Award for Innovation. Teemill is also audited for a wide range of social and sustainability criteria and is a GOTS certified company.
Here are a few links explaining more:
https://teemill.com/circular-fashion/
https://teemill.com/the-journey/
How do you work with organisations?
Teemill enables values-based organisations to increase engagement and awareness for their cause through our super shareable and mobile-friendly Teemill stores.
We provide everything you need to build a store and sell your designs online at Teemill.com. We also produce loads of free designs, photography and video tutorials to help you reach a bigger audience online.
Our UK team also helps the best stores reach more people by sponsoring paid ads on social media for good causes and boosting successful stories with our wider database of engaged customers.
https://www.youtube.com/c/Teemillstore/featured
How much does it cost?
It's free to use and get started. Teemill take a small percentage of the final sale.
Can you ship worldwide?
Yes. We regularly deliver to countries all over the world. Our shipping times do vary from country to country, but as we print and ship orders automatically the same day, it's often quicker than other countries' domestic shipping times.
Does the platform integrate with other shop platforms?
For people who currently have a Shopify store, we have an API in beta mode which is available by request.
What else do you do?
We also offer screen printed products for wholesale. This print technique is best for larger quantities, simple designs, uniforms, events or retail.
Simple one or two colour front prints are often the most popular with our customers ordering in large volumes as it's very economical.
Our vision for Teemill is to be a positive piece of technology that helps people put the internet to work for them. So we're working on loads of features that will help. The blog is particularly cool, and we're seeing people building great websites with really engaging stuff that people come back to time and again. It helps turn social media likes into audiences that are really engaged. We're working on some other tools and features like donations, downloads and digital products so that people who create content can sell that too. In everything we do, we start by asking people what would help them the most.
How to get started:
https://teemill.com – Sign-up and see how easy, lean and fast the platform is.
Teemill Pro gives users access to expert designs, incredible photography, professional features, custom domains, marketing tools and plug-ins. All Arts Council England funded organisations can get Teemill Pro for free. Please contact hello@teemill.com
What's next?
The Digital Culture Network is here to support you and your organisation. Our Tech Champions can provide free 1-2-1 support to all arts and cultural organisations who are in receipt of, or eligible for, Arts Council England funding. If you need help or would like to chat with us about any of the advice we have covered above, please get in touch. Sign up for our newsletter below and follow us on Twitter @ace_dcn for the latest updates.
---